Ready To Clear Clutter, Get Organized & Simplify Life?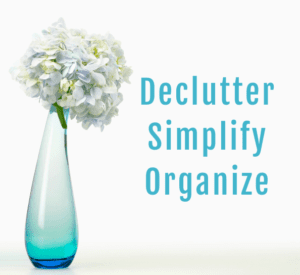 Are you tired of living with chaos?
Are you ready to declutter your home?
Are you yearning to simplify your life? 
Do you frequently wish you had more control?

Do you feel like you never have enough time?
Does your lack of organization cause you stress?
If you answered yes to any of these questions, I have a solution for you…..
The ESCAPE Clutter & Get Organized E-Course
6 Simple Steps to Declutter Your Life & Organize Your Home
Using the super simple ESCAPE method, you can declutter, organize, and simplify your whole life. The 6 Lesson E-Course is delivered right to your inbox for free! No strings attached – it's my way of sharing just how simple getting organized can be.
And boy, do I share! I take you step-by step through the entire process, including suggestions on how to customize the process for your personality and unique situation. In addition, you'll get interactive worksheets and supplemental videos.
Plus, you can join our private group  for support, ideas, and members only resources.
And to help make your efforts stick, I will also send you my weekly  Clear Your Clutter, Find Your Happy E-News – it's where I share the best tips and resources to help you stay organized and clutter free for good. 
(Oh, and just in case you are wondering, I never share email addresses with anyone – ever!)

So, are you ready to kick chaos to the curb and welcome harmony in? Then sign up now! Simply use the form below and you will be on your way….