Do you wish you could be more organized? Do you feel like it takes too much time to get organized? If you answered yes, you have loads of company. It's a universal issue – people want to get organized, but don't really think they can unless they spend hours doing it. I don't want to sound like a know-it-all, but if you think the same way you're misguided. You can get organized quickly, and you can do it right now. Seriously, you can. Here are four ways to be get organized fast. (Prefer to watch instead of read? You can find the video version here on YouTube).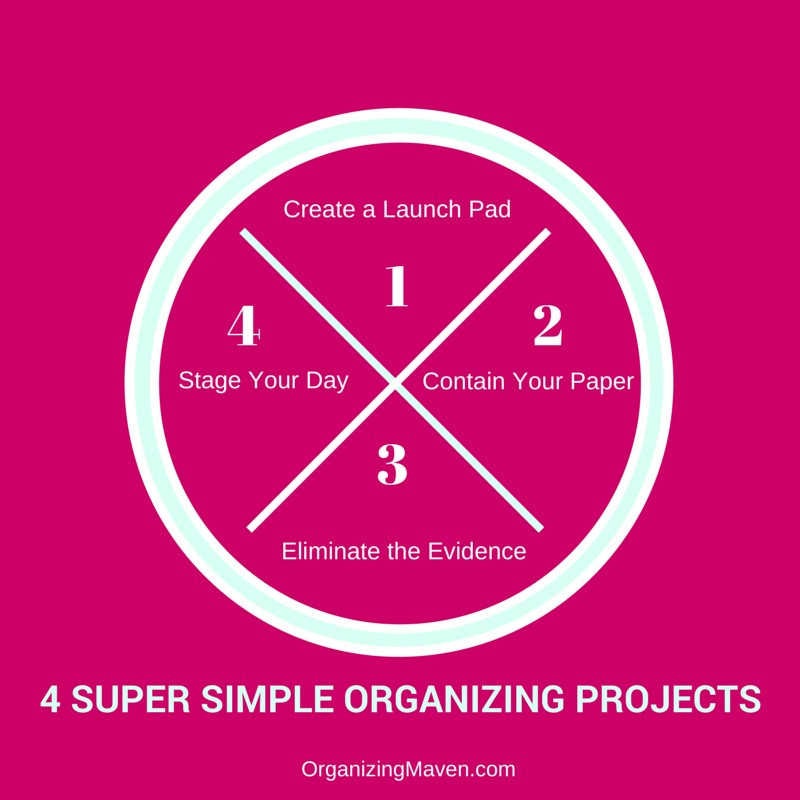 Create A Launching Pad
This means choosing a single location to hold the things you need to grab when you leave the house. Maybe it's just your keys. Maybe it's more. For me it's my purse, cell phone, keys and sunglasses. When I come into the house, I place those four items in a basket by the door. I don't even have to think about it because it's now a habit. What's better, I never have to search out those items and that is a huge time saver. If I know I need to take something more with me, I place it in the basket as soon as I think of it. Sometimes it's an item that needs to be returned, sometimes it's a coupon I want to use. You know that nagging feeling that you are forgetting something when you leave the house? Having a launching pad stops that cold.
Contain Your Paper 
Choose a single collection point for all incoming paper – do this and you'll never have to spend time looking for stray papers. All paper, no matter the source, should land here. Choose a location that is convenient and feels natural. Work with any habit you already have in place. For example, if papers normally land on your kitchen counter, you should choose to dedicate a section of the counter to paper. Once you've chosen the location, add a container – this is crucial because containerizing is what stops paper from overtaking surfaces and getting lost in the shuffle. Want hear more about why this simple technique works so well – watch the video explanation. And to take this a step further, you can learn about how to quickly and easily organize the paper you are containing!
Eliminate The Evidence
This another way of saying clean and clear as you go. If you take something out, put it away as soon as you are done with it. This applies to all the 'things' in your life. Clothes, food, crafts, books – whatever it is put it back where it belongs as soon as you are done using it. It's simple and straight forward. And it saves loads of time in the long run. Imagine how much more orderly your home would stay if everyone in your household practiced just this one principle. Don't worry about your current condition, you can start this process right now and it will make a huge difference.
Stage Your Tomorrow
Get your family in the habit of laying out their clothes for next day the night before. This means having shoes and outerwear are all set, as well as the actual outfit. This will save frantic searches for a missing articles, like shoes and mittens. Also, have everyone gather the stuff that needs to leave the house with them. This means backpacks get packed and sports paraphernalia gets gathered. Cell phones, briefcases, purses and keys are ready to launch too – you set up a launching pad, right? This practice of thinking about what the next holds means you can prepare in a deliberate way and you'll go off to bed with peace of mind. To get started on this project and to make your morning so much better,  check out the video and be sure to grab the interactive checklist guide – it will help you get out the door quickly and easily, and without stress!
None of these suggestions require big blocks of time and you don't have to do anything before you can start implementing them. Even if you choose just one to follow you will be more organized. Here's a warning – if you use all four you might just find yourself with some unexpected free time!
If clutter has you down, consider checking out The Clutter Challenge – a free program to help you get clutter under control in just 10 minutes a week (really).