If I could give clients one thing to think about when it comes to creating a clutter free life, I would ask them to reflect on this:
"Every possession is a responsibility."
This simple statement explains why you can easily feel overwhelmed when you look around your home. What you're seeing isn't just your stuff, and it's not just clutter either – you are looking at responsibilities. Each possession – not matter how small –  is a responsibility in and of itself.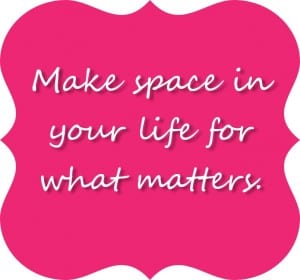 There is irony here – we so often think that acquiring something new will make us feel good. We equate having things, especially certain things, with success. We think feeling successful will lead to fulfillment. What a slippery slope that is. But we don't realize it until we have lost our balance and fallen into the cluttered depths. Suddenly we are drowning in responsibilities and that feeling of fulfillment is no where in sight.
Now you might be thinking that I believe acquiring things is bad. I can understand how you could make that leap. To clarify, I think mindless acquisition is dangerous. I believe thinking that owning a certain item will lead to happiness is misguided. Things don't create happiness – the feelings of happiness, success, and fulfillment come from within. This is why you have have to be mindful in acquiring new possessions. It's so easy to try to fill voids with stuff.
The bottom line: Each item we allow into our lives requires some degree of time and energy. More stuff means more effort. That means you will have less available for the people and pursuits that are important to you. It's that simple – you only have so much time and energy. If you spend it on maintaining possessions, you will have less to spend elsewhere.
The next time you consider allowing a new object into your life ask yourself whether you're really willing to take responsibility for that item. If you don't truly need it, or absolutely love it, why would you want to take responsibility for it?
Possessions should always reciprocate by providing value. Things that require more from you than they give back aren't serving you well. Think of it like an investment – if you aren't getting a good return then you need to let the item go.
In theory this should be easy, but in reality it can be a challenge to let go of perfectly good things. (To make this easier you may want to embrace the idea of choosing quality over quantity – it helps you make much more deliberate choices.) Here's something to help ease the discomfort – whatever you let go of frees up space in your life for something even better. What will your something better be?
If you want a little hand holding help, be sure to sign up for the free How to Declutter & Organize E-Course – it will help you simplify your life!