What would happen if a disaster were to strike? What if you had to evacuate your home quickly? Would you be prepared? By prepared I mean would you be able to grab all your vital documents quickly and easily? Would you be able to quickly grab all the information you needed to continue daily life without major hurdles?
The truth is most people aren't prepared in any way. But the other truth is that preparing really is simple. And the potential pay off is huge! Why risk not doing it?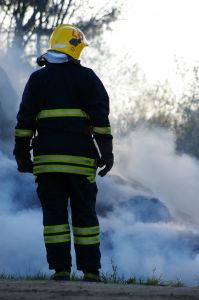 The best way to prepare for a disaster is by putting together a Grab and Go Box. It's easy to do. Even if you don't live in a disaster prone area this is something you should consider doing. The peace of mind of knowing you can lay your hands on important information quickly in the midst of a crisis is priceless. The Grab and Go Box will serve you well in many other circumstances as well. For example, the information contained in a Grab and Go Box would contain the information you would need if your purse or wallet was stolen, or if a family member was in an serious accident and incapacitated.
A Grab and Go Box is not a product per se. It is the term for the box of information you pull together. It should be housed in a sturdy, but portable file box. Ideally the type that has a handle so grabbing is easy. There are some fire proof types on the market. I would recommend considering investing in one of those for even greater protection.
Some people choose to use a backpack. That's fine too, just be sure not to confuse it with an everyday backpack. You should label it well enough so all family members know it's not be used. You may want to consider putting your papers into waterproof document sleeves. This takes very little extra effort, but if flooding were to occur the pay off would be exponential.
As you collect your information think about making duplicate copies of everything. Storing a copy in a safe deposit box would be a prudent move, as would be giving a copy to a trusted friend or relative who lives outside your area.
It's good to have a back up plan in case you get separated from your box. You never know where you'll be when a disaster will strike. For example your home could burn while you are out or a flood could occur while you are traveling.
You can download a fairly comprehensive checklist of the items to include here. The list is fitting for the lives of most people. If you have a unique situation take that into account and add copies of pertinent information.
Since this list is so comprehensive you may be overwhelmed or feel a sense of urgency to get it all compiled. I'd like to be able to say don't stress, just break it down into small chunks. And normally that would be my advice, but in this case I think a certain amount of urgency would be wise.
Hopefully you will never need to use the Grab and Go Box, but if you do, the peace of mind will feel like you won lottery. The investment of time and effort now is that worth it!
Need to get your whole life organized? I've got help for that – The ESCAPE from Clutter & Get Organized E-course walks you through the whole decluttering and organizing process, step-by-step.  You sign up for free!