Have you ever been so overwhelmed by all that you have to do, that you can hardly see the forest for the trees? Progress is evading you, distractions are building, and paralysis seems to be setting in. You're wondering how you'll ever get things done.
It may be a huge project at work, the kind that will make or break your career. It might be getting through a family crisis, the type where you can't check out, not even for a moment. It could be self performance pressure from all you want to do. Like when you've got a hundred brilliant ideas running through your head and they all seem urgent.
When you get to that place – the seriously overwrought, OMG, I have so much to do I can hardly stand it, help me now place – remember this: You don't have to figure it all out right this minute. Don't think about the end game. Don't think about how much more you have to do. Instead, narrow your focus to just one thing.
So you might be thinking: Yeah, right! If I could do that I wouldn't be feeling like I was about to drown.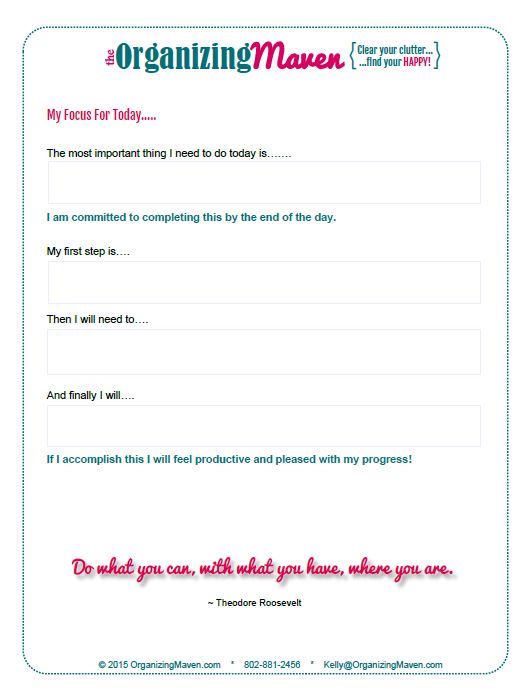 I get it….totally and completely. I know exactly what it feels like. When you're feeling distracted and scattered, finding focus can be a real challenge, but it can be done. I have just the process. It works like a charm and it takes less than 2 minutes!
It boils down to clarifying the one thing you need to do next (yes, just one thing!), and then writing out your objective. Writing does two things – it makes your commitment real, you can see it and read it. And in written form it can be used to remind you where your focus should be. Visual triggers are not to be underestimated. They are powerful tools that help keep distractions in check.
I've got a handy dandy how-to guide and worksheet. Grab it now and you'll be fully prepared to overcome overwhelm and get things done! The worksheet is editable, so you can save and re-use it.  Try it out and let me know what you think.  I'd love to hear how it worked.
If you haven't done so already, I encourage you to get the How To Clear Clutter and Get Organized E-Course. It's a free resource to help you declutter your life, organize your space, and take control of your time.