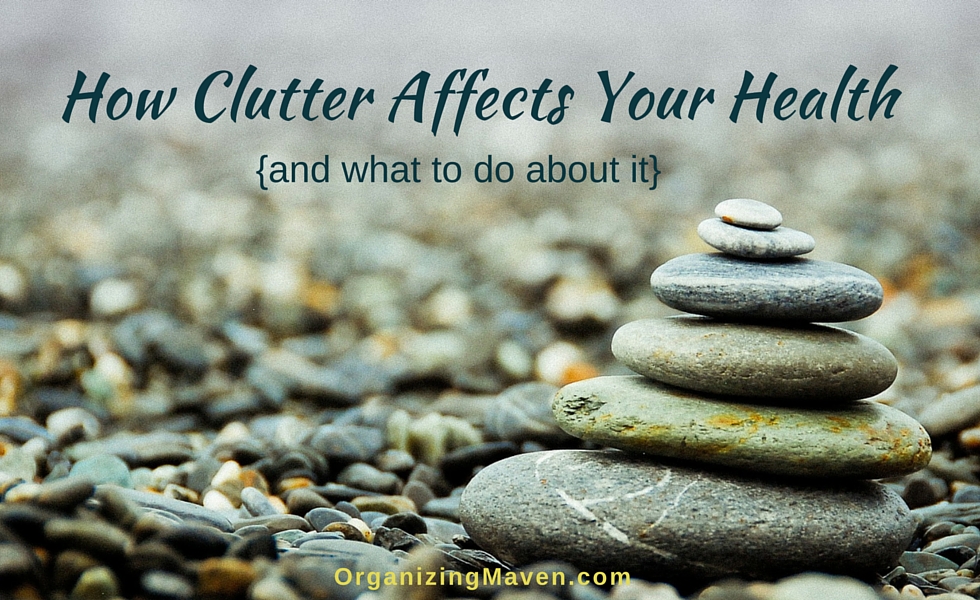 Clearing clutter can have a profound effect on how you feel. Clutter steals energy, inhibits us from enjoying life to the fullest and can negatively impact health. The impact on health can seem less than obvious, but that doesn't mean the impact is slight. Quite the contrary, the impact can be great and it can affect everything from sleep to weight to fitness.
There is the good news though – if you put your energy into decluttering the zones that most impact your health you can reverse the negative impact relatively quickly. If you are struggling with where to put your decluttering energies the following list should help you decide.
My suggestion would be to work on one area until is completely clutter free before moving onto the next. This will allow you to enjoy the benefits of a clutter free space more quickly than if you jumped from space to space.
Here is a list of how clutter affects health:
1. Bedroom Clutter
Generally speaking we spend about a third of our lives in bed and probably much more than that in the bedroom. The bedroom is the last place you see before you nod off and it's the place that greets you when you wake. If your bedroom has clutter you will likely feel the impact in the quality of your sleep. Beyond losing out on quality sleep, bedroom clutter affects intimacy. We all know clutter creates stress and stress is anything but romantic.
2. Kitchen Clutter
Kitchens are magnets for clutter. They are the center of household activity. With such a high volume of activity clutter has lots of opportunity to take hold. The kitchen is the heart of the home and the heart of the home affects our own hearts. If you have a cluttered kitchen the likelihood that you will be able to easily cook nutritious meals is radically reduced. Relying on takeout or prepared food can quickly become your default behavior. We all know convenience foods are generally unhealthy, most being high in fat and sodium. If you're looking to jump start weight loss or improve your energy level, clearing kitchen clutter should be a priority.
3. Emotionally Charged Clutter
Emotionally charged clutter is the stuff that makes you feel bad when you see it. It's altogether possible that you don't see those items as clutter. But they are – clutter is anything you need, don't use or don't love. It could be a photo that reminds you a difficult period in your life. It could be a gift from someone who hurt you. It really could be almost anything, but when you see it you feel sad, angry, jealous or just plain bad. Clear out the emotional clutter and you will free your mind, reducing tension and stress.
4. Entryway Clutter
The condition of the space that greets you when you enter your home sets the tone. Seeing clutter upon opening the door has an immediate effect. Your stress level will rise and your energy level will fall. Motivation can take a big hit too. If you are coming home after work with the intention to workout, it's absolutely possible your plan will fall to the wayside. Clutter has that kind of demotivating effect. Clearing clutter from your entry will also create an environment that is welcoming to guests. Guests who are welcomed by clutter may get the mistaken impression that you don't have time for them. Clutter can suggest you have too much going on already. That can put distance between you and your friends which would be unfortunate since strong friendship bonds are predictor of overall health. You can find tips on how to organize your entryway here.
If you want some help clearing clutter, be sure to sign up for ESCAPE Clutter & Get Organized E-Course – it takes you step-by-step through the decluttering and organizing process over six lessons which are delivered right to your inbox (for free!).