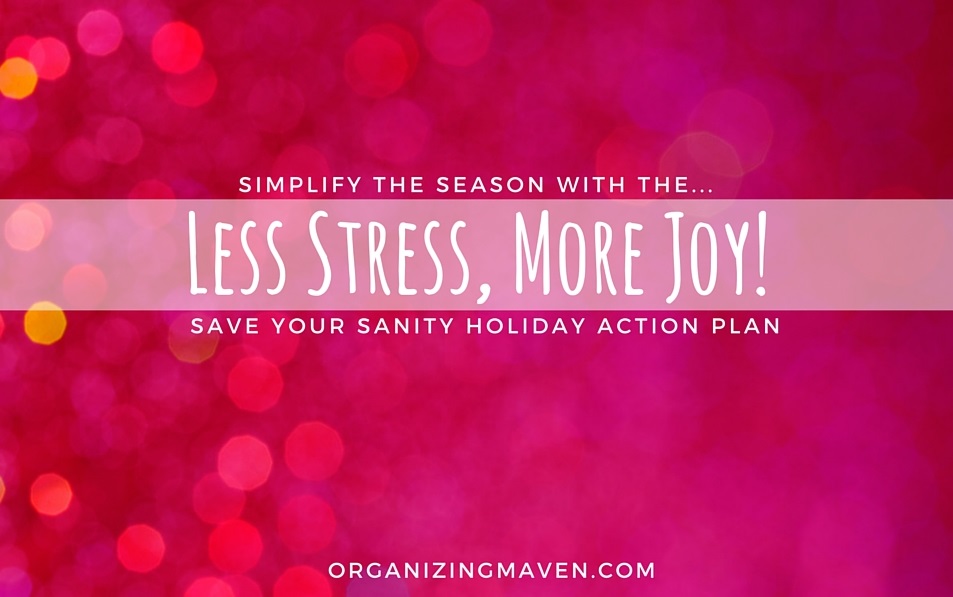 The holiday season is bearing down on us……and there's no escaping it. As I write, Halloween hasn't even arrived but our local drug store already has  a huge display of Christmas candy.  To that I say – Yikes! I know all too well those shiny red and green wrappers are a sign of things to come. And coming it is. The post box is starting to fill with annual appeal letters (my heart aches, so many unmet needs in this world). And early bird sales offers are arriving via email (what is not on sale?!).
I've even participated a bit in the pre-season madness – I just placed the order for our Thanksgiving turkey (crazy early, huh?). Yesterday the Christmas cards I ordered arrived (I'm not always this on top of it, but I wanted to get the 50% off deal – I guess those early bird emails work). And while I was in the post office picking them up, I swooped on the holiday stamps (songbirds in snow were my pick).
So why am I sharing this play-by-play? For a really simple reason, I know how easy it is to get pulled into the Must Do It All mindset. It's a slippery slope that begins innocently enough, but ends with a tumble into a sea of overwhelming expectations. I know that sounds a little dramatic right now, but talk to me when you're up at midnight on the 24th frantically wrapping gifts (not that I've ever done that<<< obvious big fat lie).
My point, I know how stressful the holiday season can be. I used to get caught up in the excitement of the season and not in a good way – in the how much can I possibly pack in and still manage to live to tell about it way. I thought that you had to do it all. I never even questioned whether I wanted to do it, I just did it (expectations are powerful commanders!).
Anyway, one crazier than crazy day, I stopped. And I thought what the h-e-double-hockey-sticks am I even doing?? Who am I doing it for? Why am I doing it? I don't remember what stopped me, but I do remember what happened next. I took stock and looked at the situation through a stranger's eyes – with unbiased honesty. I had totally lost the meaning of the season. But I meant to get it back!
I wanted family time, I wanted to embrace gratitude, I wanted to feel joy and I wanted to create meaningful memories. I was tired of feeling stressed, especially over something that wasn't worthy of it. So I sat myself down and crafted a plan. Over time it morphed into something I shared with clients. And now sharing it publicly (that means with you!) is a highlight of the season for me.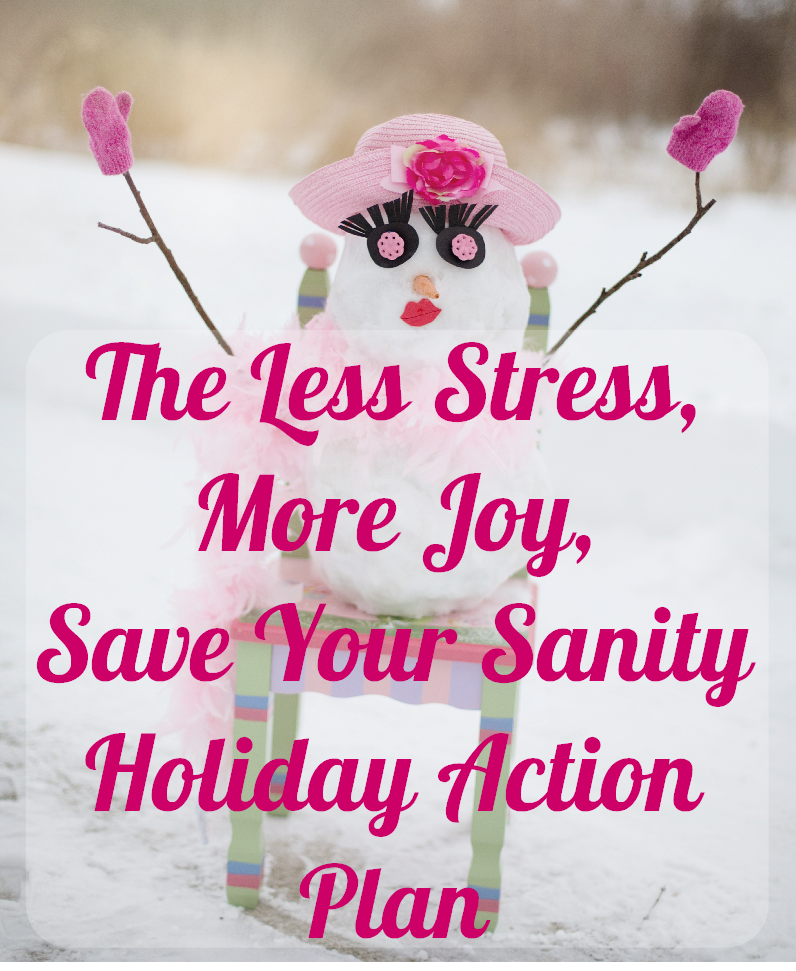 So what is 'it'? It's the Less Stress, More Joy Save Your Sanity Holiday Action Plan. And I think it's terrific! That's obviously a biased opinion, but you can judge for yourself, because it's free – my holiday gift to you. It's delivered as an interactive PDF and it walks you through the exact process I use myself. It will help you create a holiday season that is meaningful and joyful.
The plan isn't about what to cook, what to buy, or how to decorate – it's about clarifying what you want to experience. It's about identifying your priorities and getting comfortable saying no to everything else.
Of course, time is big deal – how we manage it directly affects our stress levels.  That topic is covered in depth, so you can finally focus on the things that truly matter and deflect distractions with ease.
In a nutshell, it's about decluttering your life and creating an environment for joy! The bonus? You can apply everything to life in general so the magic doesn't have to end with the holidays. You'll be able welcome 2018 with a new supportive mindset in place. Not too shabby, huh?
Did I mention it's free? That's right, free! You can sign up below, or you can pop over here to learn more about what's included in the Less Stress, More Joy Holiday Action Plan.
Save
Save
Save