Halloween hasn't even arrived. But guess what? Christmas is closing in fast. At least that's what retailers want us to think. They've already got chocolate Santas and marshmallow snowmen front and center.
Don't they know some us are still mourning the end of Summer? I'm even trying to convince Mother Nature to give us a few more bare leg days. There's plenty of time before the reindeer come swooping down, right?
In theory, that's spot on true. In fact, we've got weeks and weeks to go before Thanksgiving, rolls around. It's my personal favorite – gobble, gobble, nomm, nomm! But then I love any holiday that's food centric (or maybe I just love food, hmmm).
Anyway, Thanksgiving is the granddaddy of food holidays – it's the BIG kahuna! Unfortunately, that means it's fraught with anxiety for many cooks. I doubt this year will be any different. The magazines are already gearing up and doing all they can to remind us what's on the line (and undermine our confidence).
But never fear, because they're also promising to help us get through this day without trauma if we just follow their advice (aren't they sweet). I have seen it all, but I think the best was the headline that read: Four Weeks to a Perfect Thanksgiving. Four weeks to prepare…seriously? The subtext is obvious – you should be going all out. More subtext – if you aren't, you should try harder (but they're just trying to motivate us, right?). There is even a Turkey hotline so we can make sure we're doing it right. Ugh.
What does this all mean? The answer is painfully obvious. Expectations are going to be sky high for the balance of the year. The pressure is mounting to make us feel like we 'should' swing into full holiday mode – right flippin' now!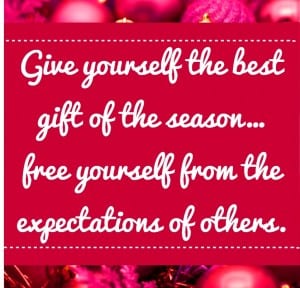 But that's the whole idea, and marketers will continue to up the ante over the coming weeks. They want people (and by that I mean women) to feel like they have to do and be everything….to everyone. Cook the perfect meal, buy the perfect gifts, decorate the perfect home, and generally attempt to be the ideal holiday hostess.
Trying to escape the onslaught of holiday marketing is an exercise in futility. No matter where we turn, we'll will be a faced with a sense of urgency, and the pressure to do it all will be intense. Flack jacket, anyone?
So the big question is this: What can we do to prevent caving under all that pressure and stay true to our own ideals?
It's a question worth answering, because the bottom line is this: unless we are ready with a plan to deflect the pressure, it will be way too easy to get caught up in the frenzy.
So here are four steps to take now that will help you reduce holiday stress (prefer to watch – there's a video version):
1. Assess Your Situation
Has your life changed since last holiday season? If so, you may need to make some major adjustments. Now is the time to start thinking about what you might need to alter. A new family member, a relocation, an economic development; these are all things that could significantly impact how you celebrate. Begin planning for those changes now. (You can also start planning now for how you might manage any holiday stress that might pop up – I've got tips!)

2. Reflect on the Past
Have you been happy with the way your past holidays played out? Did you enjoy your commitments? Did you feel too much stress? Maybe you felt like you spent more than was prudent. Perhaps you need to retire some traditions so you can welcome new ones. In any event, now is the time to get clear on what you want your holidays to look and feel like.
3. Hold a Family Meeting
Gather everyone around for a frank discussion about resources. Make it clear now about what you can and cannot afford. It's so easy for expenses to get out of hand, and especially so during this time of the year. Talking about this early on will go a long way toward making sure no one is taken by surprise when you have to bring out that two letter word – No.
4. Share Your Plans with Family and Friends
If things have changed in any way, make sure you speak up and share the news. Be as open as possible about your plans. Maybe exchanging gifts with every family member has become too much of a burden. Whatever it is, big or little, share now so there are no awkward moments later. And don't hesitate in voicing your desires, you may find you have plenty of company. Holding in feelings just leads to resentment – and that isn't a jolly emotion.

(If you want to really set yourself up for a more peaceful season, be sure to pop on over  and grab The Less Stress, More Joy, Save Your Sanity Action Plan – it's free!)